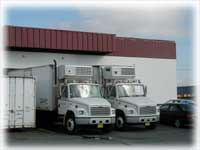 Eastern FoodService is a full line food service distributor catering exclusively to the Food Service industry. In addition the company, operates a custom cutting portioning meat processing plant registered with the Canadian Food Inspection Agency.
Eastern FoodService is a reliable supplier of high quality fresh and frozen wholesale and portioned controlled meats products as well as frozen food, dry goods, groceries, paper products, plastic products, produce and cleaning supplies. We are the only company offering daily delivery to the Metropolitan area, as well as having the lowest minimum delivery restrictions
Eastern FoodService is a very service and quality oriented company. We will do whatever is possible to accommodate our customer partnerís needs and requirements. We take great pride in our company and devotion to providing our customer partners with the highest quality products and service. We also take great pride in our Employees, most who have been with us for many years, some in excess of twenty years.